Cochlear Implantation can be considered for children and adults of any age, with bilateral severe-profound hearing loss when well fitted hearing aids do not provide enough functional benefit.
A cochlear implant is a complex medical device capable of restoring hearing. The procedure involves the surgical implantation of an electrode array into the cochlea and is more effective for people with short deafness durations. Timely referrals are advised for any person who fits audiological criteria and is interested in exploring the possibility of having a cochlear implant.
The audiogram chart illustrates the broad indications for referral to the NHIVRC. For specific referral criteria see section Referral Guidelines.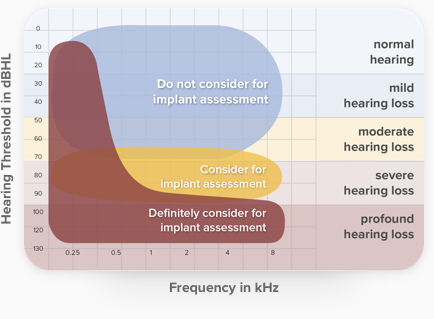 Adapted from The Ear Foundation to outline auditory thresholds to consider for referral ONLY
Referral Guidelines
For Children
Bilateral congenital or acquired severe to profound hearing loss.
Failed Universal Newborn Hearing Screening (UNHS).
Refer to brochure for further details.
For Adults
Bilateral severe to profound hearing loss.
Post lingual hearing loss with oral/aural communication skills
Limited benefit from appropriately fit hearing aids and poor open set speech discrimination (Note: binaural amplification is recommended unless total loss in one ear/both ears)
URGENT REFERRALS WILL BE CONSIDERED IN THE FOLLOWING CASES:
Hearing loss post meningitis
Hearing loss post skull fracture, particularly temporal bone fractures
Dual sensory disability (e.g. blindness)
How to Refer
Who can refer the patient?
General Practitioner
Local or community audiologist
Consultant ENT Specialist
ENT NCHDs (on behalf of the supervising consultants)
Instructions for referral:
Complete the referral form

Download and complete the Patient Referral Form

Attach the following documention

For Children:

Copy of UNHS or most recent audiological testing.

For Adults:

Copy of the most recent audiological reports (no later than 6 months).

Patient must have had hearing aid fitted previously and found no benefit.(Hearing aid review is part of the CI assessment and consistent HA use is required as part of CI assessment)

A copy of report on previous hearing aid fitting and recent hearing aid review (no later than 6 months)
Copies of radiology reports, history of medical co-morbidities and list of current medications are not compulsory but it would help the screening process. If you could kindly include them in the online form.
Please advise your patient to bring a copy of the CD-ROM containing the latest MRI or CT scan of the inner ear on the first clinic attendance, if they were done in the private imaging centers.
Download our patient referral form